Management of Complaints: How We Handle Complaints
Independent Grievance Redress Mechanism (IGRM)
About the DBSA IGRM
What Is a Grievance, and What Do We Do
Mandate of the IGRM: Compliance Review
Mandate of the IGRM: Problem-Solving
Mandate of the IGRM: Monitoring & Evaluation
Mandate of the IGRM: Governance Structure
Management of Complaints: How to File a Complaint
Management of Complaints: Information Required Per Complaint/Grievance
Management of Complaints: How We Handle Complaints
Statement Against Retaliation
Requirements from DBSA Clients
The DBSA requires every client under a DBSA Project to develop an independent grievance mechanism to receive and assist resolve project-affected parties concerns and grievances arising from the DBSA Project.  The client's grievance mechanism should be proportionate to the project risks and impacts.  When an AP is unable to obtain an adequate response from a client's grievance mechanism, then the AP may resort to following DBSA grievance procedures. After bringing their concerns directly to the DBSA's attention and giving DBSA IGRM a reasonable opportunity to respond as per stipulated guidelines, project-affected parties may follow the procedures outlined on the DBSA website http://www.dbsa.org/EN/InvestorRelations/Pages/Sustainability.aspx.  The client's grievance mechanism must:
Address concerns promptly and effectively at no cost and without retribution;
Implement measures to reduce risk of retaliation against vulnerable Aps;
Not prevent access to judicial or administrative remedies where necessary;
Handle project beneficiaries and project APs' grievances in a culturally appropriate, discreet, objective, transparent, sensitive and responsive manner;
Allow for anonymous complaints to be raised and addressed;
Be explained to the community during community engagement activities under the DBSA Project; and
Maintain a register of grievances lodged, and the status of reported grievances.
Figure 1: Process flow for registration to resolution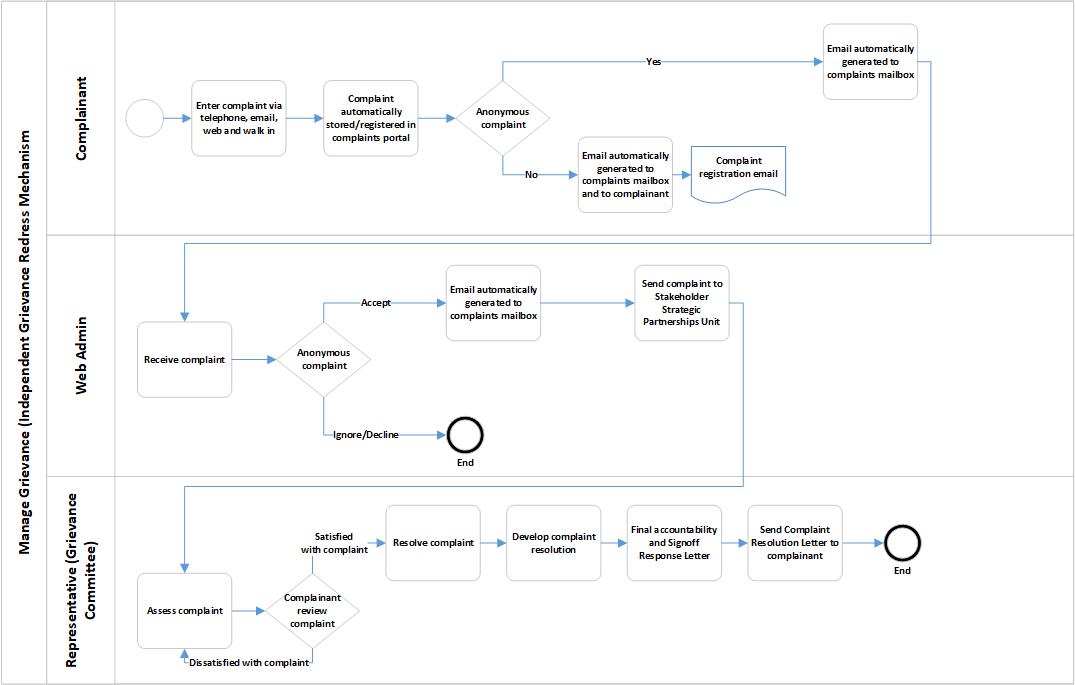 Previous: Information Required Per Complaint/Grievance Next: Statement Against Retaliation